Product Description
Farmer/Wheel/Farming/Compact Tractor for Sale with Low Price
Model No.
TL804
Type
4*4
Engine
Model
YTO 4108(VYT4B5-23)
 
Bore×Stroke(mm)
108×135
 
Rated power(kw)
62.5
 
RPM
2300
Overall dimension (L*W*H)
4395*2048*2860
Tread(mm)
Front
1610
 
Rear
1620
Wheelbase
2195
Clutch Type
Single blade,dry,butterfly spring pressed, separate operation,double function
Gear Box
Two shaft, Straight teeth, differential lock
Gear shift
16F+8R,Shuttle shift
Weight (kg)
3740
Tyre
Front
11.2-24
 
Rear
16.9-34
PTO(RPM)
760/1000
PTO Shaft Spline (mm)
6D-38×32×6
Others
Crawl shift, Air brake, 2-way hydraulic valve, front ballast weight and 3 layer rear ballast weight, Awning/Sunroof
Products advantages:
1 Good quality
2 competitive price
3 technology support
4 good after-sales service
5 strong production capacity
Company introduction:
TANGLAND INTERNATIONAL,
We are mainly dealing with the importing and exporting, for Machineries, Vehicles, Equipments, Building Materials, Steel & Iron, Casting Foundry and related parts & components, regular Chemical, Nylon 6 products etc., there are our own 2000 dealers, overseas storages, overseas companies, our turnover is US dollar 150 Million, with our professional trading team efforts.Our products have exported to more than 30 countries and regions.We have got good comments from different countries customers.
Creating value for all the  customers, is the priority of TANGLAND.
Factory workshop
Package
Our Service
Pre-Sales Service
1. Inquiry and consulting support.
2. Sample testing support.
3.View our Factory.
After-Sales Service
1.Training how to install the machine, training how to use,maintain and repair the machine.
2.Engineers available to service machinery overseas.
FAQ
Q1.What is your terms of payment?
A:T/T 60% as deposit,and 40% before delievry.we will show you the photos of the products and packages before you pay the balance.
Q2.What your terms of delivery?
A:EXW,FOB,CFR,CIF,DAF.
Q3.How about your delivery time?
A:Generally,it will take about 20 days after receipt of deposit payment.The specific delivery time depends on the items and the quantity of your order.
Q4.Are you interested in dealership with local company?
A:Yes,we are quite interested in this business.we'd like to cooperate with some local partner to sell more tractors in local market and supply better service.
Q5.What is your warranty policy?
A:We can supply 2 years warranty for our tractors.We will provide parts as free within warranty.We can send engineer to customer place if big quality problem.We can provide internet or calling service at any time.
Q6.Do you test all your tractors before delivery?
A:Yes,we have 100% tractor test and complete quality control system before delivery.
Q7.How do you make our business long-term and good relationship?
A:1.We keep good quality,competitive price and efficient service to ensure our customers benefit;
    2.We protect the benefit of dealer or agent,in specifical period and region.
| | |
| --- | --- |
| Type: | Wheel Tractor |
| Usage: | Farm Tractor |
| Certification: | ISO, CCC, ISO/TS16949 |
| Drive Wheel: | 2WD |
| Emission Standard: | Euro II |
| Fuel: | Gas / Diesel |
Customization:

Available

|

Customized Request

Choosing the Right PTO for Your Machine
There are many types of PTOs, and you may be wondering which one is the best choice for your machine. In this article, you'll learn about Splined PTOs, Reverse PTOs, and Independent PTOs. Choosing the right PTO for your needs will allow you to operate your machine more efficiently.
LPTO
LPTOs can be dangerous for operators. They should stay at a safe distance from them to avoid getting entangled in the rotating shaft. If an operator gets caught, he or she could sustain severe injuries or even death. Safety precautions include wearing clothing that does not cling to the shaft.
There are many types of PTOs. Some of them support high power applications. These models have different shafts with varying spline configurations. Type 3 shafts have 20 splines, while Type 2 shafts have just 10. Type 3 and Type 2 shafts are referred to as large 1000 and small 1000 respectively by farmers.
The power that drives the PTO shaft comes from the gearbox through the countershaft. Standardizing the PTO speed helps to design equipment around the given speed. For example, a threshing machine is supposed to run at a specific peripheral velocity of the threshing cylinder, so pulley arrangements are usually designed with that speed in mind.
Because the PTO shaft is often low to the ground, it is easier to handle it from a kneeling position. Using a good surface to place the implement on will help you align the splines properly. To make this process easier, use a floor mat, a carpet, or a sturdy piece of cardboard. Once you have positioned the shaft on the PTO, press the locking pin button. If the PTO shaft is stuck, jiggling the implement a bit will help it slide into position.
Reverse PTO
There are several different ways to reverse the PTO shaft. Some older Massey Ferguson style tractors are designed to reverse the PTO shaft by turning it backward. This feature is useful for raising upright silo unloaders. The first method involves driving backward with the rear wheel jacked up and rotating while the rear wheel spins. This method is also useful for reversing a baler or unplugging a baler.
Another option is to install a reverse PTO adapter. These adapters are available for all types of PTOs. A reverse PTO is an excellent choice for any implement that can get stuck when rotating in one direction. However, it should only be used when it is absolutely necessary. The reverse PTO should not be rotated too far backward or for too long.
There are also different types of PTO shafts. Some transfer energy faster than others. That is why a large tractor's PTO will transfer energy faster than a small tractor's. Furthermore, independent PTOs don't require a parking break like transmission PTOs do. There is also a difference between metric and domestic PTO shafts.
In farming, the reverse PTO is used when the farm machinery gets stuck or needs to be reversed. It also makes it possible to use the tractor to turn in the opposite direction. A PTO is a mechanical gearbox that transfers energy from the tractor's engine to other implements. It can also supply power in the form of rotating pumps.
Splined PTO
The splined PTO shaft consists of six equal-sized splines that are spaced apart by grooves. The splines are angled to the axis of rotation of the PTO shaft. When the splines and the grooves meet, they align the screw end portion.
A splined PTO shaft can be retrofitted to most size 6 PTO shafts. It can also be used as a replacement for a worn out or damaged PTO shaft. This type of PTO shaft is recommended for tractors that require a quick and easy install.
Splined PTO shafts can be used for different types of agricultural equipment. They are compatible with standard and Weasler yokes. They can be cut to size and are available in North American and Metric series. They also come in an Italian Metric series. These shafts are easy to install and remove with a simple key.
A splined PTO shaft is essential for facilitating the interconnection of different components. A power take off (PTO) shaft tool engages the splined PTO shaft and turns it in order to align it with the input shaft of a cooperating structure. This tool is used to connect the PTO shaft to a tractor. This can also be used on a truck, trailer, or any other powered vehicle.
A wrench 40 is also useful for securing a PTO shaft. It enables the wrench to rotate the P.T.O. shaft approximately 30 degrees. The wrench's leg 46 engages the shaft on the opposite side of the PTO shaft 16. Once the wrench is tightened, the tool can rotate the PTO shaft to make it align with the input shaft 16.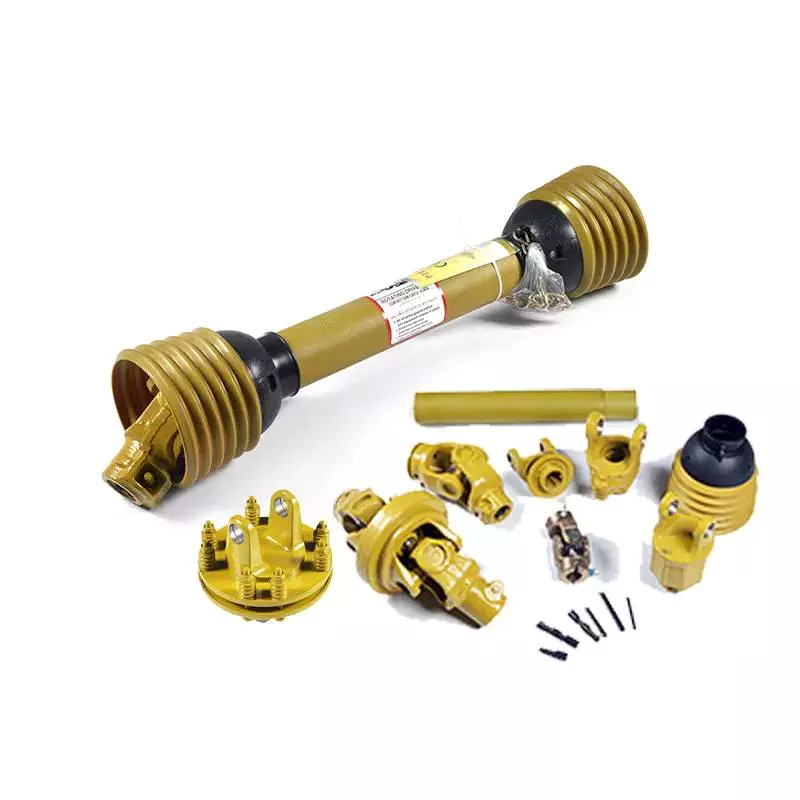 Independent PTO
Independent PTO shafts can be mechanical or hydraulic. The mechanical type has a separate on/off selector and control lever, whereas hydraulic PTOs have just one. The mechanical version is preferred for tractors that need to operate at lower speeds and for applications such as baling and tilling. The hydraulic version reduces noise and vibration.
Another advantage of an independent PTO is that it is easy to engage. Instead of engaging a clutch, you simply shift the PTO selector lever away from 'OFF' and flip the PTO switch to "ON." This lever is usually located on the right hand side of the operator's seat.
The ISO 500 standard provides specifications for independent PTO shafts. This specification lays out the size of the shaft, number of splines and the location of the PTO. In addition, it specifies the maximum RPM and shaft diameter for a PTO. The original ISO 500-3 specification calls for 540 revolutions per minute for shafts with six splines.
Another benefit of an independent PTO is its ability to be engaged or disengaged without using the transmission clutch. The lever can be pressed halfway or fully to engage an independent PTO. The independent PTO also allows you to stop the tractor while it is in motion. Independent PTOs are available in hydrostatic or mechanical configurations, and are particularly popular with hydrostatic drives.
LPTO shaft guard
An LPTO shaft guard prevents accidental rotational collisions by covering the shaft of a PTO. A PTO shaft is a moving part that can entrap a person's legs, arms, and clothing. In a pinch, a person could become entangled in the shaft and suffer a serious injury. A PTO shaft guard is a great way to protect yourself against these dangerous incidents.
PTO mishaps can cause severe injuries and even fatalities. To prevent this, equipment manufacturers have made strides in improving the design and construction of their PTO drive shafts. A PTO shaft guard will protect the drive shaft from entanglement and tearing. Proper installation and maintenance of a PTO shaft guard can help protect the tractor, PTO, and other machinery.
Tractor PTO shaft guards are made from durable plastics and can be installed easily. They keep all the parts of the tractor in place and prevent accidents during operation. These parts are vital components for many farm equipments. A 540 RPM shaft can pull a person from a distance of five feet. A PTO shaft guard will prevent this from happening by keeping clothing from becoming entangled in the shaft.
Another important component of a PTO system is the master shield, which covers the PTO stub and the input driveline shaft of an implement. The master shield protects both the tractor PTO stub and the connection end of the input driveline shaft. It extends over the PTO stub on three sides. Many people never replace their master shields because they are too expensive.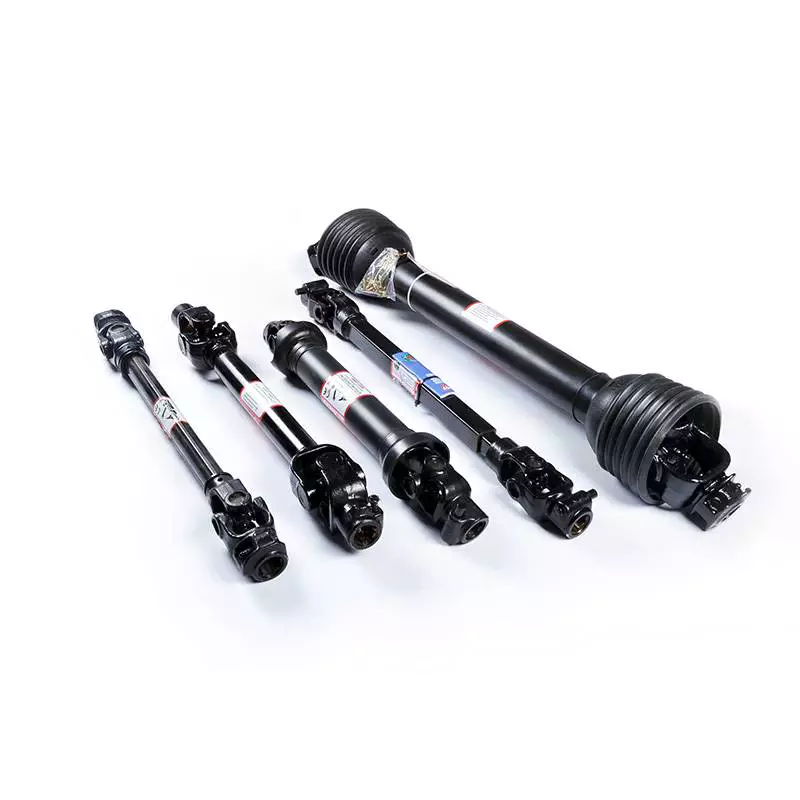 Safety of handling a pto shaft
Handling a PTO shaft safely is a vital component of tractor safety. Safety shields must be properly fastened to the shaft to prevent any accidents. The shield should also be inspected and maintained regularly. Otherwise, foreign materials, including clothing, can enter the shaft's bearings. It is also important to walk around the rotating shaft whenever possible.
Power takeoff shafts are used to transfer mechanical power from farm tractors to implements. However, improper handling of these devices can lead to severe injuries, including amputation and multiple fractures. Spinal injuries are also common, especially if an individual is rotated around the shaft.
Operator awareness is key to avoiding PTO entanglement. Performing repairs while a machine is in operation or wearing loose, frayed clothing may lead to injury. It is also important to read the manufacturer's instructions before operating a PTO. Lastly, it is important to never operate a PTO while the engine is running.
PTO shafts should be protected by 'U' or 'O' guards on the tractor and the attached implement. It is also important to use a PTO stand. As with any mechanical part, handling a PTO shaft requires care. Always ensure that the tractor is off before working and remove the key before working on it. Also, it is important to avoid stepping on the drive line or going under it. Make sure you wear protective clothing and shoes. Avoid wearing clothes that have laces as they could become entangled in the shaft and cause injury.
The connection to the PTO shaft should be close to the ground. If it is not, kneel on a flat surface. A piece of carpet, automobile floor-mat or cardboard can work well. Then, align the splines on the PTO shaft. To do this, press the locking pin button, then pull the ball-lock collar back, and then push the shaft onto the PTO.




editor by CX 2023-05-16
Product Description
Made in China, Sold to the world
Versatile, Easy, Affordable, Powerful, Reliable
 
Feed mixer product description
Feed mixer Product Description
EL and EW series feed mixing machine is designed by the nutritional needs of cattle's different growth and development and lactation stage, combined with the local's specific grass resource through an advanced feed processing technology to stir, cut, knead and mix grasses. Correctly usage will reduce the subclinical mastitis of cows and increase milk quality, reduce bacteria content,which can improve work efficiency and reduce labor intensity.
EL and EW series feeder mixer applies to cow,cattle,sheep and goat farm. Available on a variety of grass, straw and silage crops such as fibrous feeds chopped and mixed with fine material mix treatment. Mixing and feeding operations once completed, to reduce intermediate links reared and improve efficiency. Reduce labor cost, save feed costs and improve economic efficiency.
Main sales territory: regions Europe, the United States, Russia, Ukraine, South America, Africa, southeast Asia and Australia,New Zealand.
Feed mixer Product Selling Points
1. It can be directly silage and a variety of straw, straw and other fiber-based feed into the mixer chopped, mixed, stirring speed, each batch of feed cutting mixing time of 30 minutes, according to the different tank volume, each feed The mixer can feed 200-2000 cows per day, which can replace more than 20 workers to reduce the labor intensity and improve the feeding efficiency.
2. Every feeding can take appropriate amount and balance all kinds of elements and nutrientions, effectively avoid the unequal nutrient intake caused by the cow's picky food, and reduce feed waste.
3. Prolong feeding time, can increase feed intake, increase lactation amount, and prevent the drop of milk fat.
4. It is beneficial to reduce the postpartum disease, the ruminant function is stable, PH change is small,can improve the digestibility, good to maintain the health of the dairy cows.
5. feeder mixer is allowed to feed raw material with poor palatability. Mixing with silage can conceal its odor and reduce the cost of feeding.
6. It can make the formula, feeding, management and library more accurate, and it is easier to mechanization than personnel management.
7. In the place where the roughage is limited, the feed mixer can reduce the amount of coarse feed in the diet and replace the non roughage fiber.
ETL series Feed mixer(Tractor PTO and motor 2 working modes)product technical parameters
| | | |
| --- | --- | --- |
| Model | ETL-12 | ETL-16 |
| Capacity(m³) | 12 | 16 |
| work efficiency(T/H) | 4-10 | 6-12 |
| Dimensions(mm)L*W*H | 4800*2350*2800 | 6500*2200*2600 |
| Hopper size(L*W)mm | 4800*2050 | 5500*2050 |
| Weight(kg) | 3300 | 5000 |
| transmission shaft | 8*20 | 8*20 |
| Speed(r/min) | 23 | 23 |
| blade material | Material Tungsten carbide | Material Tungsten carbide |
| blade number | Triangular blade 8pcs, oval blade 12pcs | Triangular blade 16pcs, oval blade 14pcs |
| Load cell | 4pcs | 4pcs |
| Tire | 750-16/4pcs | 750-16/4pcs |
| Power(HP) | 70-100 | 80-120 |
| motor | / | 220KW*2pcs |
| Start the way | Tractor PTO | Automatic, tractor and motor 2 ways to use |
ETL series Feed mixer(Tractor PTO and motor 2 working modes)details picture display

EL series Feed mixer product technical parameters
| | | | |
| --- | --- | --- | --- |
| Model | EL-5 | EL-7 | EL-9 |
| Capacity(m³) | 5 | 7 | 9 |
| work efficiency(T/H) | 3 | 3-5 | 5-12 |
| Dimensions(mm)L*W*H | 3100*2030*2400 | 3400*2200*2400 | 3900*2300*2500 |
| Hopper size(L*W)mm | 2700*2000 | 2700*2030 | 3150*2300 |
| Weight(kg) | 2100 | 2300 | 2850 |
| transmission shaft | 20*8 | 20*8 | 20*8 |
| Speed(r/min) | 23 | 23 | 23 |
| blade material | Material Tungsten carbide | Material Tungsten carbide | Material Tungsten carbide |
| blade number | large triangular knife 6pcs, small triangular knife 5pcs | large triangular knife 7pcs, small triangular knife 11pcs | large triangular knife 7pcs, small triangular knife 6pcs |
| Load cell | 4pcs | 4pcs | 4pcs |
| Power(HP) | 40-60 | 50-70 | 70-90 |
EL series Feed mixer details picture display

EW series Feed mixer(Tractor PTO and motor 2 working modes)product technical parameters
Model
EW-5
EW-7
EW-9
Capacity(m³)
5
7
9
work efficiency(T/H)
3-5
3-5
3-5
Dimensions(mm)L*W*H
4000*1650*2100
5000*2000*2400
4600*2000*2500
Hopper length(mm)
2800
3000
3300
Weight(kg)
2000
3000
3200
Knife shaft number
Large knife body 4pcs,
knife body 5pcs
Large knife body 6pcs,
knife body 5pcs
Large knife body 7pcs,
knife body 5pcs
Blade number
Crescent Knife 9pcs, Oval Knife 31pcs
Crescent Knife 11pcs, Oval Knife 39pcs
Crescent Knife 12pcs, Oval Knife 43pcs
Length of reducer and motor(mm)
1300
1300
1300
Reducer power(KW)
15KW
22KW
22KW
Speed(r/min)
20
18
18
Hydraulic pump motor power
1.5kw-4-B35
1.5kw-4-B35
1.5kw-4-B35
Power(HP)
40-60
50-70
70-90
Start the way
(Tractor PTO and motor 2 working modes)
EW series Feed mixer(Tractor PTO and motor 2 working modes)details picture display

Feed mixer packing and shipping link display

Baler, rake and envelop machine product portfolio
Full range of tractor products display
Our company produces other agricultural machinery display
Factory introduction
ZheJiang Euro Star Machinery Manufacture Co., Ltd. is a professional Machinery and equipment manufacturer integrating R&D, design, manufacturing, sales and service. The company's products cover agricultural machinery, construction machinery, laser equipment, generator sets and so on.
As a professional machinery equipment manufacturer in China, the company has committed itself to provide all-round solution to global modern agricultural mechanization. The company has integrating high-end products and technologies resources around the world by upgrading of technologies, quality and service and bringing forth new ideas to create innovative products as so to improve reputation and market share of CZPT in the world step by step.
The company has passed the ISO9001:2015 international quality management system certification, and based on this, covering product development, part purchase, production and manufacturing, quality inspection, sales and after-market service, so as to control the product quality on the whole.
Supported by comprehensive quality assurance system and developed sales and service network, the company has made leaping increase of sales in domestic market via trustful quality and outstanding service mode. Besides, Most of the company's products have passed the European CE certification.products are exported to Europe, America, Latin America, the Middle East, Asia-Pacific, CIS, Africa and more than 80 countries and regions.Our products have been recognized by all foreign customers, and we are happy to establish long-term cooperative relationships with new friends.
Xihu (West Lake) Dis.g at satisfying the customers, we have worked hard to provide excellent and quick service to customers both at home and abroad via advanced technologies, developed products and comprehensive network so as to maximize the customer satisfaction.
In future, the company will adhere to the principle of sound business operation, continuous innovation and opening up and cooperation to create more high-end machinery and equipment based on current ones for the society and for agriculture and contribute to global modern agriculture production.
Tractor production workshop display

Service
One-stop business chain service support system
With an international service team with rich experience and excellent skill, company is committed to build a complete service guarantee system, which is professional, fast, efficient and comprehensive. Every consumer in overseas would receive a full-process service guarantee including pre-sales, on sale and after sales through the way of markets, spare parts, training service and technical support.
1) Market Service
Service Mode : Stationary Point + Circuit Service
Long-term Stationary Point Service
Short-term Circuit Technology Support Service
Service Process: Standard, High Efficient, Seasonable
Service Image: Professional, Unified
2) Spare Parts Service
Spare Parts Guarantee Measures: Dealer+ Spare Part Warehouse
100% original spare parts assure good quality;
Bar-code system adopted in the whole process assures accuracy and promptness;
Professional and accurate package and logistics assure safe and relieved transportation.
3) Training Service
Characteristic Training Mode: invite the technicians of dealers to factory for training, send engineers to dealers for training;
A full range of training tools, multi-language training materials, vivid training video;
Professional training teachers with rich service experience and good communication capability;
One-to-1 special assignment training;
Remote online network training;
4) Technical Support
The whole process Technology support covers on sale and after-sale service.
Terms of the deal:
1). Delivery: 20 days for normal orders
2). Price: We have price on basis FOB HangZhou and CIF your destination for your choice
3). Payment terms for first order:
—–T/T 30% deposit and balance before shipment
—–100% L/C at sight
4). Payment for long terms cooperation of good reputation partners, we have SINOSURE insurance for our VIP clients, and we can offer credit service after we familiar with each other. We are looking for partnership for long-term business
FAQ:
Why choose us?
1). The quality is guaranteed due to strong technical support ,first class component ,advanced production line and strict quality control system.
2). Be leading Expert in global market for more than 5 years, China Famous Export Brand recommended by CCCME (China Chamber of Commerce for Import and Export of Machinery and Electronic Products)
3). One-stop service with a large spare parts warehouse and professional service team .No matter where you are, you are guaranteed of Eurostar' s warm reception, trustworthy and efficient professional services and persistent care.
How Shipment?
We have worked with many world famous shipping carriers and can arrange shipment to any country in the world, it can save your time and money. We can provide airfreight and CZPT service.
Contact us
Mr. Duke Zhang
ZheJiang Euro Star Machinery Manufacture Co., Ltd.
Add: 198 HangZhou Street, Xihu (West Lake) Dis. District, HangZhou City, ZheJiang Province,P.R.C.
Web:eurostartractor
EUROSTAR CUSTOMERS ALL OVER THE WORLD
| | |
| --- | --- |
| After-sales Service: | 1-3 Years |
| Type: | Mixing Equipment |
| Processing Object: | Forage, Straw |
| Processing Technics: | Mixing-before-Crushing |
| Screen Mesh: | Without Screen Mesh |
| Grinding Equipment Type: | Feed Mixer |
Customization:

Available

|

Customized Request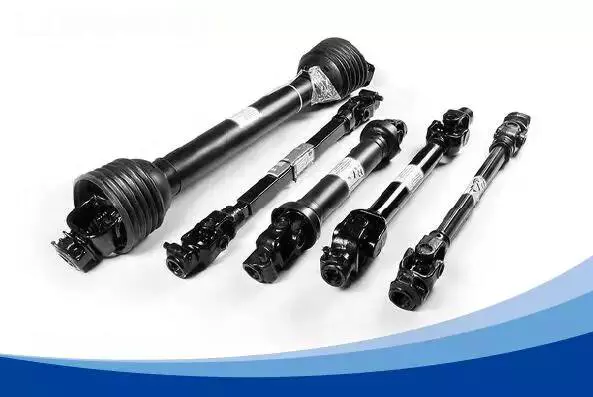 PTO Shafts and PTO Shaft Shields
When choosing a PTO shaft, measuring the various pieces is an important aspect. Each piece must be measured in a specific way, with the shaft in a closed position. Measure the length between the outsides of the yokes. The closed length will help you determine the correct PTO series size for the horsepower of your tractor.
540 rpm
A 540 RPM PTO Shaft will fit CZPT PTO models. These shafts are slightly indexed to allow for easy PTO drive hookups. These shafts will also work with 1000 RPM implements. They also feature a snap ring that will allow for quick and easy removal.
PTO shafts are commonly divided into two types: 1000 RPM and 540 RPM. The 540 RPM PTO shafts are smaller, with only six splines, while the 1000 RPM PTO shafts are larger. The 540 RPM version is used with implements that require less horsepower and are made for light-duty use.
The PTO shaft transfers power from the tractor's engine to a PTO-driven implement. When operating at its recommended speed, the PTO shaft rotates at 540 rpm (9 times per second). The higher speed PTO shafts have more splines.
Safety chains
Safety chains for PTO shafts are an important safety feature to consider when operating a tractor. These chains are welded to the drive end of a tractor or implement. They are used to prevent the plastic shield from spinning on the PTO shaft. The chain's reaction time is slower than the speed of the PTO shaft, which makes it important for safety.
When operating a tractor, it is important to follow the manufacturer's instructions and keep the machine and equipment in a safe location. A poorly-guarded PTO can entrap ground personnel or cause a serious accident. Operator awareness is also important. It is important to avoid stepping over a revolving shaft, wearing loose clothing, or making repairs while the tractor is running. It is also important to follow the manufacturer's instructions and use the PTO for its intended purpose.
The safety chains for PTO shafts must be properly connected and fully functional before each use. During a PTO operation, the PTO shaft may rotate as much as 1000 rpm, which is potentially deadly. In addition to safety chains, the tractor should have a clutch or torque limiter fitted on the implement end.
The PTO shaft must have a correct length for the machine. If it is a sliding metal PTO drive shaft, it is important to lubricate it according to manufacturer's specifications. Lubrication is recommended after every eight hours of operation. Also, make sure that the button on the end of the PTO shaft moves freely. Hammering it into place can damage the guard and the shaft.
A PTO driveline hazard is one of the oldest farm machinery hazards. It refers to the PTO or Implement Input Connection. There are often protruding pins and bolts on the driveline, which can snag clothing.
Shield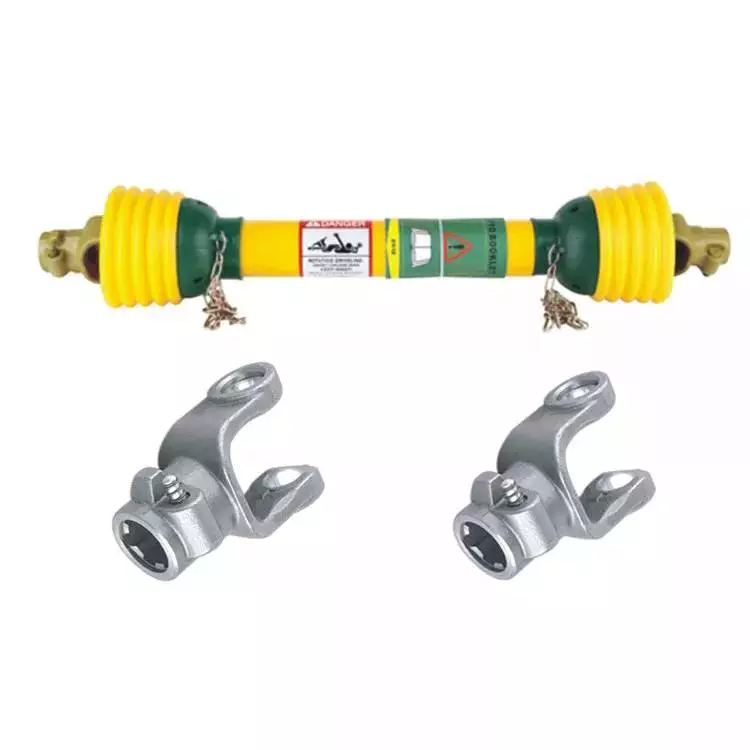 The PTO shaft shield is a protective piece that encloses a PTO shaft. These shields are usually plastic, but some are also made of metal. They are made to protect the PTO shaft from debris, which can cause premature wear and damage to the universal joints. A PTO shaft shield is not a permanent fixture, but can be easily removed for replacement or repair.
The PTO shaft shield should be checked periodically to ensure that it is in good condition. It should have no loose ends or loose bolts. Ensure that the shear bolts and pins are the right length and hardness for the PTO shaft. Additionally, the operator should wear snug clothing to avoid stepping on the PTO shaft while working.
The PTO shaft shield should fit snugly over the PTO shaft. If the PTO shaft is loose, it may be difficult to attach the safety shield. However, with a proper PTO shaft shield, the process should be quick and easy. A CZPT safety clip allows easy removal and prevents co-rotation between the inner driveshaft and the safety shield. The driveline safety shield from RPM Transmissions is made of CZPT, which is a rigid and durable material.
In addition, some machine drive shafts are lacking a shield. This can cause a safety hazard. Without a PTO shaft shield, an operator may accidentally touch the shaft and get injured. These guards prevent this danger by enclosing the shaft in a plastic or metal guard.
The PTO shaft shield is a crucial part of tractor safety. It helps protect the operator from accidental entanglement while operating the tractor. When the PTO shaft stub becomes separated, it can cause severe injuries and even fatalities. Thankfully, the industry has made tremendous progress in reducing the risks associated with PTO mishaps. Operators must make sure they maintain the shields and do not remove them if not in use.
Reverse rotation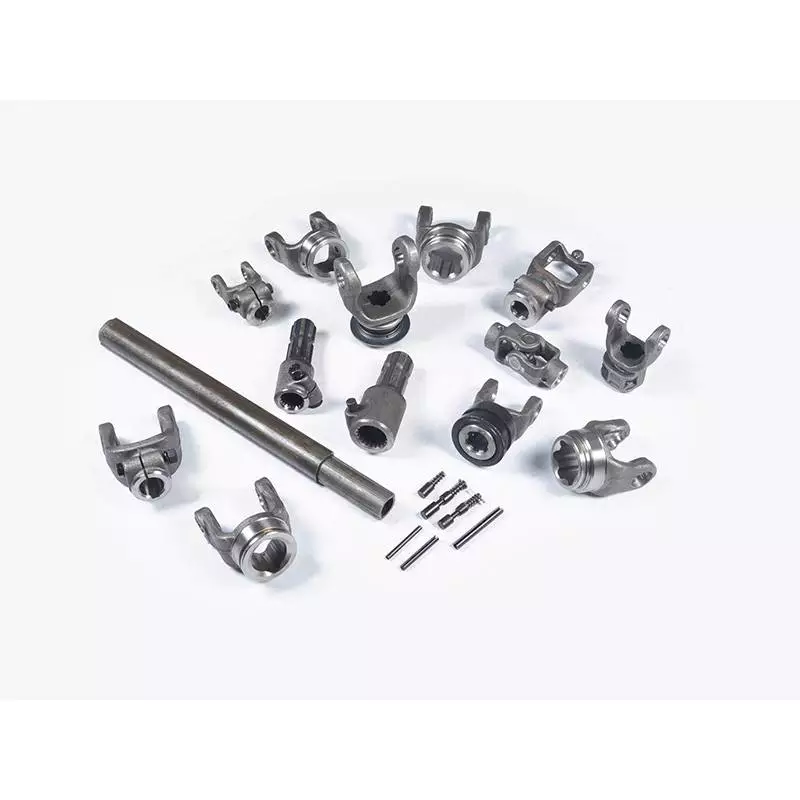 The PTO shaft reverse rotation mechanism prevents the main drive shaft from moving in a direction opposite to the direction of rotation of the driven shaft. The mechanism is compact, reducing the length of the rotation shaft. The mechanism includes two reversing members: first reversing member 151 rotates in a clockwise direction and second reversing member 153 rotates in a counterclockwise direction.
In a PTO shaft reverse rotation mechanism, a driven shaft is inserted into a hollow cylindrical body. It is rotatably positioned relative to the main driving shaft 112 and radially symmetrically around it. As a result, the driving and reverse-rotation mechanisms are symmetric.
One such PTO shaft reverse rotation mechanism has a main drive shaft and a driven shaft, and a plurality of transmission units coupled to it. The driven shaft and the transmission member rotate in tandem. The transmission units are arranged radially about the main driving member and the driven shaft. Alternatively, one of the reversing units may comprise the second reversing member and the first driving member.




editor by CX 2023-04-23