Product Description
Z-F 4WG2 Output shaft  for LG958L/LG936L/LG956L wheel loader
Z-F 4wg2 72 72 72  SHIM S=1.6 571 108 158  
1 4644301391 GEARBOX HOUSING 4644 301 391
13   0571 718159  SHIM S=1.8 571 108 159  
2 0336357127 PLUG (M30*1.5)0336 302 571
14   0571 718160  SHIM S=2.0 571 108 160  
3 06343 0571 5 O-RING (27*2)0634 304 275 
15   0571 718161  SHIM S=2.2 571 108 161 
4 0899317344 TYPE PLATE 0899 317 344
16   0571 718162  SHIM S=2.4 571 108 162 
5  0571 311  SHIM S=2.6 571 108 163  
6 0636305046 PLUG (AM14*1.5)0636 305 046
18   0571 718164  SHIM S=2.8 571 108 164 
7 0634306522 O-RING 0634 306 522
19  57115571  THRUST WASHER 571 150 759 
8 4644301298 COVER PLATE 4644 301 298
20  464435719  THRUST WASHER 4644 303 529 
9 4644301192 COVER PLATE 4644 301 192
21  4644308625  GEAR (Z=63)4644 308 625 
10 0636015278 SCREW (M8*16)0636 015 278
22  46443 0571 5  THRUST WASHER 4644 308 265  
11 063057112 WASHER 0630   NEEDLE BEARING  0571  303 203
4 46443086~8 IDLEER GEAR SHAFT 4644 308 614
37   0571 71610  REXIHU (WEST LAKE) DIS. RING 571 513 610  
5 063615716 CAP SCREW 0636 104 146
38   0571 303205  NEEDLE BEARING  0571  303 205   
6 571119101 ROLL.BEARING ASSEMBLY 571 119 101
39   0571 71611  REXIHU (WEST LAKE) DIS. RING 571 513 611
7 0630362571 PACKING WASHER (25)0630 362 571 
40   0571 71181 REXIHU (WEST LAKE) DIS. RING 571 513 181  
COUPLNG KV  SHAFT 4644 351 076
42   0571 71436  SNAP RING  571 513 436 
2  0634313536  O-RING (49*3)0634 313 536  
43   0571 71459  SNAP RING  571 513 459  
3  571401106  PISTON RING 571 401 106 
44   0571 71457  SNAP RING  571 513 457 
4  063661  SHIM S=1.4 571 108 157 
52  464435710  INTERNAL FRICTION BLOCK 4644 308 330   
[Packing&shipping]
RO-RO and Container
(1) Complete machine nude packed, small parts with necessary packing and big component naked packing after disassembly for the container. 
(2) Spare parts in paper case or wooden carton, big parts nude packing.
[Company Information]
ZheJiang Xihu (West Lake) Dis. Construction Machinery Co., Ltd ( WYCM ) has been offering a complete range of most reliable and cost-effective construction equipments from China to rest of the world which include but not limited to wheel loader, backhoe loader, motor grader, road roller, excavator, truck crane, bulldozer , and etc.
As 1 of the biggest export distributors of China machines spare parts, our business has reached more than 60 regions or countries world widely. The 2000 CBM warehouse and convenient transportation will guarantee you the high availability and short lead time.
Each of our team is rich in construction machinery background and committed to create the most values to our customers.
[Our services]
1.Mining &Construction machinery: 
**Wheel loader 
LG916 LG918 L918 LG933L L933 LG936L LG938L L938F LG946L L948 L948F LG952N LG952H LG953N L953F L955 L955F L955FN LG956L L956F L956FH LG958L L958F LG959 LG968 L968F LG978 LG979 
**Backhoe loader 
LGB877 LGB876 WZ30-25 
**Motor Grader 
G9138 G9165 G9180 G9190 G9200 G9220
**Road Roller 
RS7120 RS7200 RS7260 RS8140 RS8160 RS8180 RS8200 RS8220
**Excavator
LG6135E LG6150E LG6210E LG6225E LG6235E LG6250E LG6300E LG6360E LG6400E 
** Bulldozer 
SD16 TY160 /SD22 TY220/ SD32 TY320 
2.Engine parts 
(Yuchai(YC6108G) CZPT (Deutz TD226B,WD615) Shangchai (C6121),(6BT5.9..) 
3.Transmission 
(4WG180,4WG200..) HangZhou advance (ZL30E,ZL50E,YD13,WG180..) 
[Customer&Exhibition]
[Name Card]
Any interests, feel free to contact me!
| | |
| --- | --- |
| Certification: | CE, ISO9001: 2000 |
| Condition: | New |
| Stock: | Available |
| Quality: | Genuine/Original |
| Part No: | 4644311239 |
| Color: | Black |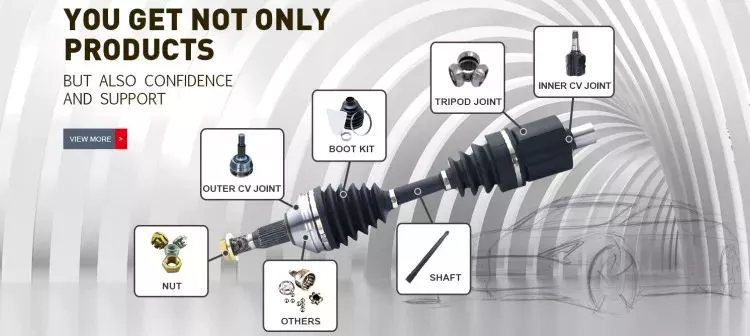 What is a drive shaft?
If you notice a clicking noise while driving, it is most likely the driveshaft. An experienced auto mechanic will be able to tell you if the noise is coming from both sides or from one side. If it only happens on one side, you should check it. If you notice noise on both sides, you should contact a mechanic. In either case, a replacement driveshaft should be easy to find.
The drive shaft is a mechanical part
A driveshaft is a mechanical device that transmits rotation and torque from the engine to the wheels of the vehicle. This component is essential to the operation of any driveline, as the mechanical power from the engine is transmitted to the PTO (power take-off) shaft, which hydraulically transmits that power to connected equipment. Different drive shafts contain different combinations of joints to compensate for changes in shaft length and angle. Some types of drive shafts include connecting shafts, internal constant velocity joints, and external fixed joints. They also contain anti-lock system rings and torsional dampers to prevent overloading the axle or causing the wheels to lock.
Although driveshafts are relatively light, they need to handle a lot of torque. Torque applied to the drive shaft produces torsional and shear stresses. Because they have to withstand torque, these shafts are designed to be lightweight and have little inertia or weight. Therefore, they usually have a joint, coupling or rod between the two parts. Components can also be bent to accommodate changes in the distance between them.
The drive shaft can be made from a variety of materials. The most common material for these components is steel, although alloy steels are often used for high-strength applications. Alloy steel, chromium or vanadium are other materials that can be used. The type of material used depends on the application and size of the component. In many cases, metal driveshafts are the most durable and cheapest option. Plastic shafts are used for light duty applications and have different torque levels than metal shafts.
It transfers power from the engine to the wheels
A car's powertrain consists of an electric motor, transmission, and differential. Each section performs a specific job. In a rear-wheel drive vehicle, the power generated by the engine is transmitted to the rear tires. This arrangement improves braking and handling. The differential controls how much power each wheel receives. The torque of the engine is transferred to the wheels according to its speed.
The transmission transfers power from the engine to the wheels. It is also called "transgender". Its job is to ensure power is delivered to the wheels. Electric cars cannot drive themselves and require a gearbox to drive forward. It also controls how much power reaches the wheels at any given moment. The transmission is the last part of the power transmission chain. Despite its many names, the transmission is the most complex component of a car's powertrain.
The driveshaft is a long steel tube that transmits mechanical power from the transmission to the wheels. Cardan joints connect to the drive shaft and provide flexible pivot points. The differential assembly is mounted on the drive shaft, allowing the wheels to turn at different speeds. The differential allows the wheels to turn at different speeds and is very important when cornering. Axles are also important to the performance of the car.
It has a rubber boot that protects it from dust and moisture
To keep this boot in good condition, you should clean it with cold water and a rag. Never place it in the dryer or in direct sunlight. Heat can deteriorate the rubber and cause it to shrink or crack. To prolong the life of your rubber boots, apply rubber conditioner to them regularly. Indigenous peoples in the Amazon region collect latex sap from the bark of rubber trees. Then they put their feet on the fire to solidify the sap.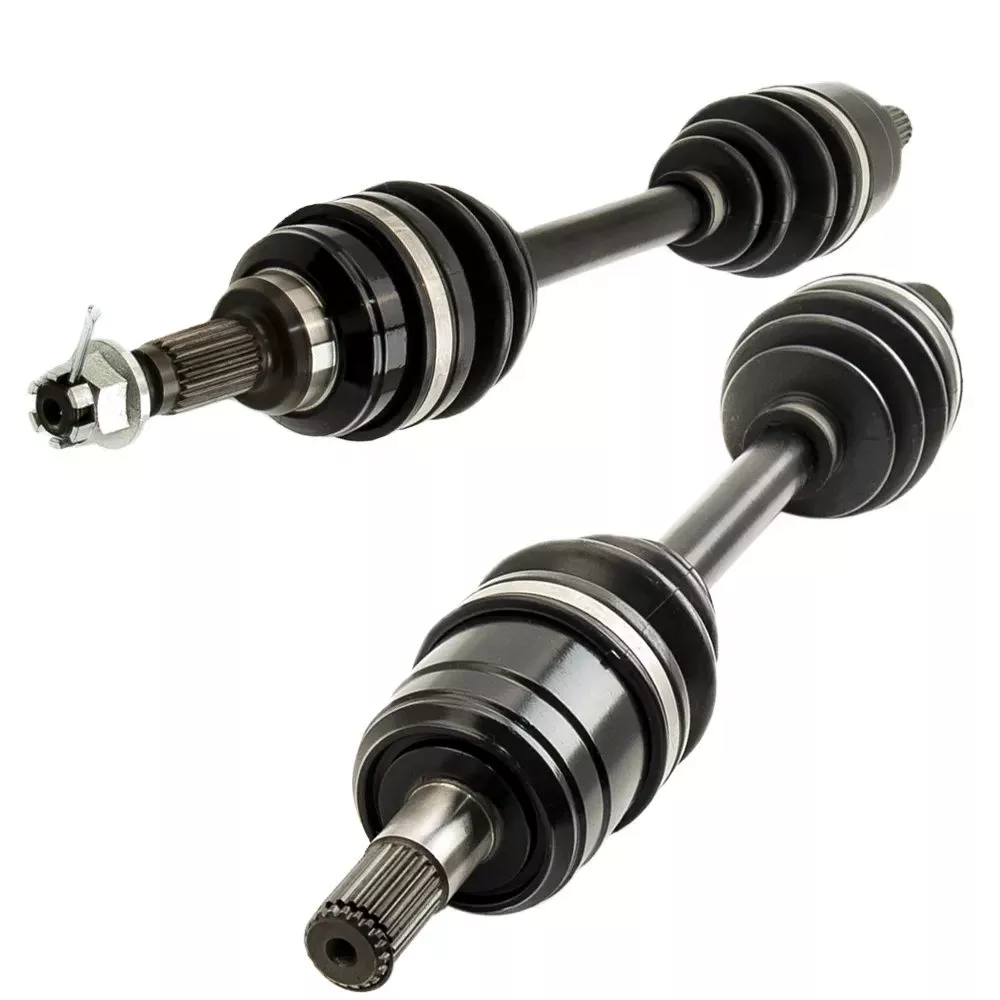 it has a U-shaped connector
The drive shaft has a U-joint that transfers rotational energy from the engine to the axle. Defective gimbal joints can cause vibrations when the vehicle is in motion. This vibration is often mistaken for a wheel balance problem. Wheel balance problems can cause the vehicle to vibrate while driving, while a U-joint failure can cause the vehicle to vibrate when decelerating and accelerating, and stop when the vehicle is stopped.
The drive shaft is connected to the transmission and differential using a U-joint. It allows for small changes in position between the two components. This prevents the differential and transmission from remaining perfectly aligned. The U-joint also allows the drive shaft to be connected unconstrained, allowing the vehicle to move. Its main purpose is to transmit electricity. Of all types of elastic couplings, U-joints are the oldest.
Your vehicle's U-joints should be inspected at least twice a year, and the joints should be greased. When checking the U-joint, you should hear a dull sound when changing gears. A clicking sound indicates insufficient grease in the bearing. If you hear or feel vibrations when shifting gears, you may need to service the bearings to prolong their life.
it has a slide-in tube
The telescopic design is a modern alternative to traditional driveshaft designs. This innovative design is based on an unconventional design philosophy that combines advances in material science and manufacturing processes. Therefore, they are more efficient and lighter than conventional designs. Slide-in tubes are a simple and efficient design solution for any vehicle application. Here are some of its benefits. Read on to learn why this type of shaft is ideal for many applications.
The telescopic drive shaft is an important part of the traditional automobile transmission system. These driveshafts allow linear motion of the two components, transmitting torque and rotation throughout the vehicle's driveline. They also absorb energy if the vehicle collides. Often referred to as foldable driveshafts, their popularity is directly dependent on the evolution of the automotive industry.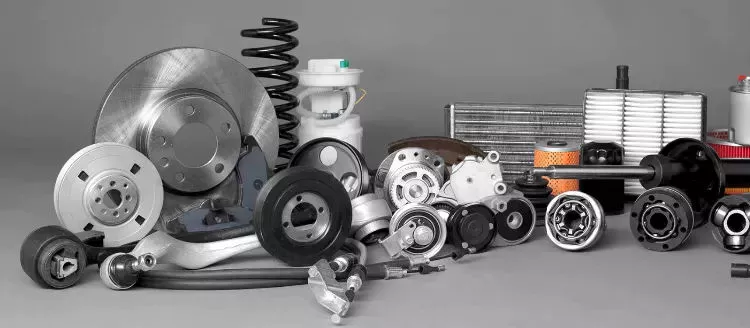 It uses a bearing press to replace worn or damaged U-joints
A bearing press is a device that uses a rotary press mechanism to install or remove worn or damaged U-joints from a drive shaft. With this tool, you can replace worn or damaged U-joints in your car with relative ease. The first step involves placing the drive shaft in the vise. Then, use the 11/16″ socket to press the other cup in far enough to install the clips. If the cups don't fit, you can use a bearing press to remove them and repeat the process. After removing the U-joint, use a grease nipple Make sure the new grease nipple is installed correctly.
Worn or damaged U-joints are a major source of driveshaft failure. If one of them were damaged or damaged, the entire driveshaft could dislocate and the car would lose power. Unless you have a professional mechanic doing the repairs, you will have to replace the entire driveshaft. Fortunately, there are many ways to do this yourself.
If any of these warning signs appear on your vehicle, you should consider replacing the damaged or worn U-joint. Common symptoms of damaged U-joints include rattling or periodic squeaking when moving, rattling when shifting, wobbling when turning, or rusted oil seals. If you notice any of these symptoms, take your vehicle to a qualified mechanic for a full inspection. Neglecting to replace a worn or damaged u-joint on the driveshaft can result in expensive and dangerous repairs and can cause significant damage to your vehicle.



editor by CX 2023-08-26
Product Description
Wholesale price tag 80,ninety,100HP 4x4WD farm tractors for agriculture
Product Screen
OPPTIONAL ATTACHMENTS
We have a lot more than 30 sorts of attachments, All varieties of attachments can be replaced, It can be tailored to your specifications.
 
Product Parameters
major technological parameters

Design

LT1004-1, Wheel kind

Driving sort

Four wheel drive

Power

100HP

Steering technique type

Complete hydraulic steering

Common pace of electrical power output shaft

540/760r/min
Quantity of gears (ahead/backward)
12/twelve
Motor
HangZhouhong
External dimension (L × W × H)
4190×1790×2690mm
Variety of hydraulic output teams
2
Kind of suspension
Three-level rear suspension
Software
Packaging & Shipping
LUGONG Firm
ZheJiang Lugong Machinery Co., Ltd. was founded in March 2000. Our business is the backbone enterprise of design equipment national wide. It covers a land of 200 thousand sq. meters and has 1100 employees, 88 of whom are engineers and professionals.
 
Our company mostly creates loaders, excavators, tippers, tricycles and so on. Products are largely sell to above 20 provinces in China and export to dozens of countries and areas in Africa, Southeast Asia, South America and Russia. The high quality and efficiency of our modest farm-use loaders and design tippers are in foremost placement of the market all through the nation and properly received by users. Now, "Lu Gong" manufacturer loaders and tippers have acquired acceptance by sellers and uses all over China.
 
We target on top quality, overall performance and consider of consumers as always. In administration, we've reached a new stage by adopting ISO 9001:2015 international good quality management method.
 
We would like to build in economic building by holding our old and new close friends and users' hands by adhering to our organization philosophy of " Driven by science and technological innovation, in search of survival by good quality, benefiting by handling and successful industry by provider" and spirit of " Pioneering, innovating and pursuing excellence".
FAQ
one.Are you a manufacture or trading firm? 
We are a professional producer and we can provide tractors from 25Hp-100HP and implements.
2.what is actually your MOQ?
1 device.
three.How long is the direct time?
Normally 15-25 times. Depands on the quantity of your order.
4.what's your payment phrases?
Usually we use T/T We also take other payment phrases, this sort of as Western Union, PayPal and L/C.
five.Can be used for which implements?
Loader, Backhoe, Harrow, Mower, Plough, Planter, Trailer, Slasher, Snow blower or as per your specifications.
US $9,100-9,485




/ UNITS




|

1 UNITS



(Min. Order)

###
| | |
| --- | --- |
| Type: | Wheel Tractor |
| Usage: | Farm Tractor, Garden Tractor, Lawn Tractor |
| Certification: | ISO, CE |
| Drive Wheel: | 4WD |
| Emission Standard: | Euro II |
| Fuel: | Gas / Diesel |
###
Samples:

US$ 9485/Piece

1 Piece(Min.Order)
###
###
main technical parameters

Model

LT1004-1, Wheel type

Driving type

4WD

Power

100HP

Steering system type

Full hydraulic steering

Standard speed of power output shaft

540/760r/min
Number of gears (forward/backward)
12/12
Engine
Dongfanghong
External dimension (L × W × H)
4190×1790×2690mm
Number of hydraulic output groups
2
Type of suspension
Three-point rear suspension
US $9,100-9,485




/ UNITS




|

1 UNITS



(Min. Order)

###
| | |
| --- | --- |
| Type: | Wheel Tractor |
| Usage: | Farm Tractor, Garden Tractor, Lawn Tractor |
| Certification: | ISO, CE |
| Drive Wheel: | 4WD |
| Emission Standard: | Euro II |
| Fuel: | Gas / Diesel |
###
Samples:

US$ 9485/Piece

1 Piece(Min.Order)
###
###
main technical parameters

Model

LT1004-1, Wheel type

Driving type

4WD

Power

100HP

Steering system type

Full hydraulic steering

Standard speed of power output shaft

540/760r/min
Number of gears (forward/backward)
12/12
Engine
Dongfanghong
External dimension (L × W × H)
4190×1790×2690mm
Number of hydraulic output groups
2
Type of suspension
Three-point rear suspension
Choosing the Right PTO Shaft
There are several different types of PTO shaft. These include the Transmission PTO, the Economy PTO, the Type 4″ pto shaft, and the Two-stage clutch pto shaft. It is important to choose the correct one to ensure a smooth operation. When choosing a PTO shaft, consider the characteristics and uses of each type.
Transmission PTO

If you have been experiencing trouble with your Transmission PTO shaft, you may want to take it to a mechanic to have it looked at. A PTO problem can be frustrating and costly to fix. Here are some tips for resolving PTO problems. Start by checking your transmission oil and air pressure levels. Also, check for cracked or kinked hoses and screens. If none of these steps resolve the issue, you may need to replace your PTO.
There are two types of Transmission PTO shafts, Type 1 and Type 2. The first type was designed to be used for 540 rpm applications. Later versions were designed to handle higher PTO powers, and the diameter was changed to increase its speed. Both types have different diameters, so be sure to check the spline count.
Transmission PTOs are commonly used between tractors and farm equipment. These PTOs have the feature of a universal transmission, although the input and output ends are not always on the same plane. The drive shaft is also able to vary the angle between input and output ends. This allows the drive shaft to operate within a specified left and right expansion range.
When replacing a transmission PTO, make sure you check the shaft's speed and backlash before installing it. In addition, check the transmission gears to ensure they are in good condition. Experts from suppliers recommend inspecting and replacing any debris on the gaskets. They also recommend setting backlash units between the transmission and PTO. In general, backlash units should range from 6,000 to 12,000 units.
To maintain the efficiency of your Transmission PTO, it is necessary to maintain the proper oil level. Make sure you regularly check the PTO fluid and filter. A change of fluid and filter is recommended every 75,000 miles and 300,000 miles. Using a dial indicator can help you to check backlash and prevent damage to the PTO or mating gear.
Economy PTO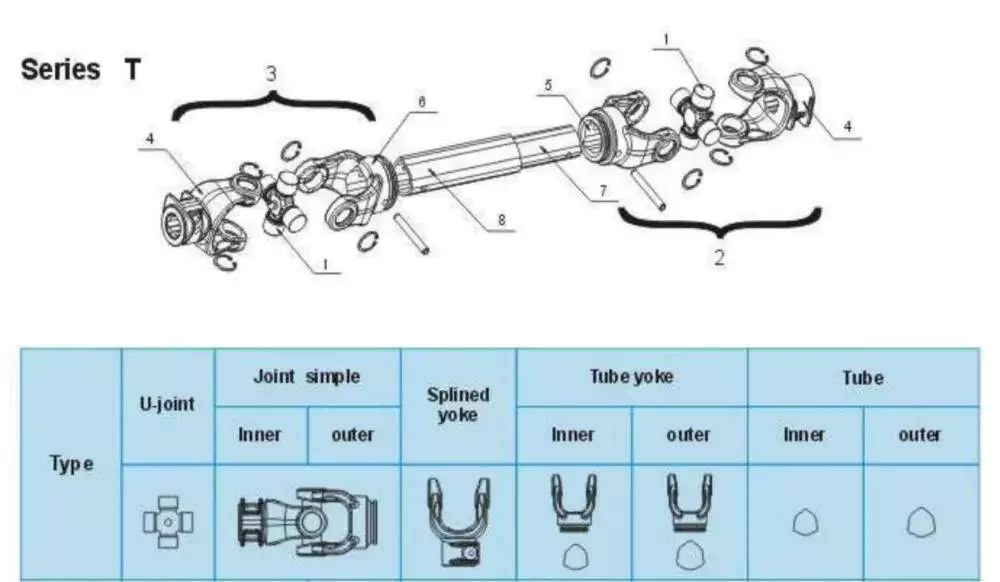 The Economy PTO shaft allows you to reduce the engine speed when driving your PTO. This mode uses different gears to adjust the PTO shaft revs. The cab-mounted control/monitoring unit 14 uses the PTO speed information to set the parameters of the PTO. In order to operate this system, you must be aware of the lever 21 position and the type of shaft fitted.
The ratio of the input shaft 7 and the output shaft 22 determines the precise value. The ratio also depends on the type of PTO shaft and the ratio of the gearbox. There are two different types of PTO shafts, and each has different toothed wheels. To choose the right one, you should know the ratio of the shaft and the gearbox.
A Domestic PTO shaft is the most common type used in North America. It comes in a wide range of diameters and splines and can be used on a variety of applications. It is durable and is resistant to pressure, impacts, and tension. It is also equipped with a shear pin and slip clutch to protect the PTO from common obstacles.
An Economy PTO shaft enables your tractor to run at lower rpms, reducing noise and vibrations. It is perfect for a variety of agricultural equipment and is controlled by your tractor's transmission. It is available in two types: mechanical and hydraulic. A mechanical version has a clutch, while a hydraulic version has a lever to control the torque.
The Economy PTO shaft allows you to reduce fuel costs and increase productivity by up to 2%. It also reduces noise in the cab, which is a plus. Its auto-mode feature helps you operate the Economy PTO with ease. This system can also be programmed to automatically disengage the PTO when the linkage is raised.
Two-stage clutch on pto shaft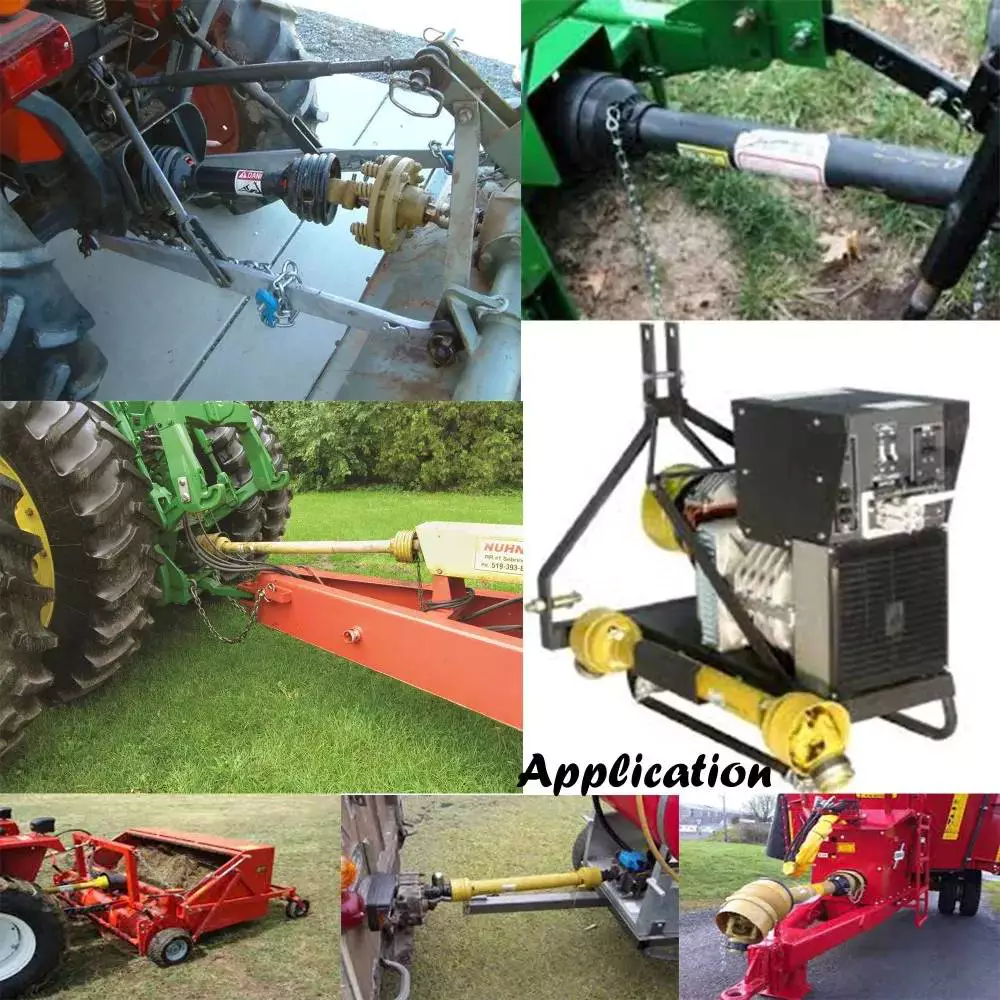 If you're looking to get the most out of your tractor, you should check the clutch for two-stage operation. Two-stage clutches use two separate stages to disengage the PTO and gears. If the clutch does not disengage when you push the pedal, you'll need to adjust it. Rust buildup can cause the clutch to stick and require a rebuild or replacement. Fortunately, there are many ways to check whether your clutch is slipping.
A two-stage clutch is commonly used in transmissions with live PTOs. The first stage operates the driven portion of the transmission, while the second stage controls the PTO. This arrangement allows the PTO to work independently of the transmission, which is especially useful in tractors that use mower attachments.
This two-stage clutch is usually accompanied by a gearbox. The gears in the PTO shaft are set up to rotate at a rate of 540 revolutions per minute (rpm) when the engine is running. The second clutch is designed to operate at a higher speed and can be used with different power sources.
A two-stage clutch on the PTO shaft is a good option if you're using a tractor that doesn't have a slip clutch. It will limit the tractor's torque, so you'll save money on fuel while doing work. It also helps reduce noise and vibration.
Types of independent pto shafts
Independent PTO shafts come with their own clutch, which enables them to run independently from the tractor's transmission. There are two main types of independent PTO shafts: mechanical and hydraulic. The mechanical version has a separate on-off selector and control lever. The hydraulic version only has a single selector.
These different types of PTO shafts are only compatible with specific implements. The speed at which they transfer energy is different, too, and some are faster than others. This is why some large tractors have higher-speed PTOs than smaller tractors. A transmission PTO requires a parking break, while an independent PTO does not.
A newer type of independent PTO shaft, the Type 4, is also available. This model runs at a higher rotational speed, around 1300 rpm, which allows for a more efficient transfer of power. In addition, the Type 4 shaft is larger, with 22 splines and a diameter of 57.5 mm. It is designed to support PTO powers of up to 450 kW or 600 horsepower.
Another type is called a "sandwich" type, which is mounted between the transmission and engine. It receives its drive from the engine shaft. This type can transfer the full power of the engine to the PTO, although it needs modifications to the driveline. It also comes with its own lubrication system.
Independent PTO shafts can be manually operated or electronically controlled. The independent PTO is easy to engage and is often operated by shifting the PTO selector lever away from the 'OFF' position or by flipping the PTO switch to the "ON" position. Independent PTO shafts may also feature an additional manual clutch. This clutch helps regulate heavy loads and protects the PTO drive system.




editor by czh 2022-12-18